Communications & Public Information »

November 17, 2023: Parent Resources Newsletter
November 17, 2023: Parent Resources Newsletter
EMCSD Parent Resources November 17, 2023 ‌ ‌ ‌ ‌ ‌ ‌ ‌ ‌ ‌ ‌ ‌ ‌ ‌ ‌ ‌ ‌ ‌ ‌  ‌ ‌ ‌ ‌ ‌ ‌ ‌ ‌ ‌ ‌ ‌ ‌ ‌ ‌ ‌ ‌ ‌ ‌  ‌ ‌ ‌ ‌ ‌ ‌ ‌ ‌ ‌ ‌ ‌ ‌ ‌ ‌ ‌ ‌ ‌ ‌  ‌ ‌ ‌ ‌ ‌ ‌ ‌ ‌ ‌ ‌ ‌ ‌ ‌ ‌ ‌ ‌ ‌ ‌  ‌ ‌ ‌ ‌ ‌ ‌ ‌ ‌ ‌ ‌ ‌ ‌ ‌ ‌ ‌ ‌ ‌ ‌ 

Message from Dr. Garcia - Thanksgiving Break
As we gather with loved ones to give thanks, I want to express deep gratitude to our entire school community – parents, students, and families. Your support and partnership make our educational journey a shared success. Thank you for being an essential part of our district family.
Wishing you all a warm and wonderful Thanksgiving!
Dr. Maribel Garcia
Superintendent
Congratulations to Wright School's Yvette Hall!
Ms. Hall was named a 2023 Robert "Bobby" Salcedo Esperanza Award recipient, being recognized as an outstanding educator in El Monte. She joins Coreen Pineda from El Monte Union High School District and Erin Lewis from Mountain View School District as this years awardees.
She will be recognized at the 20th Annual Tamalada in December.
Recap of Monday, November 13 Board Meeting
You can watch our district leaders present the latest news from around El Monte City School District below. You can also watch the entirety of the audio stream below as well.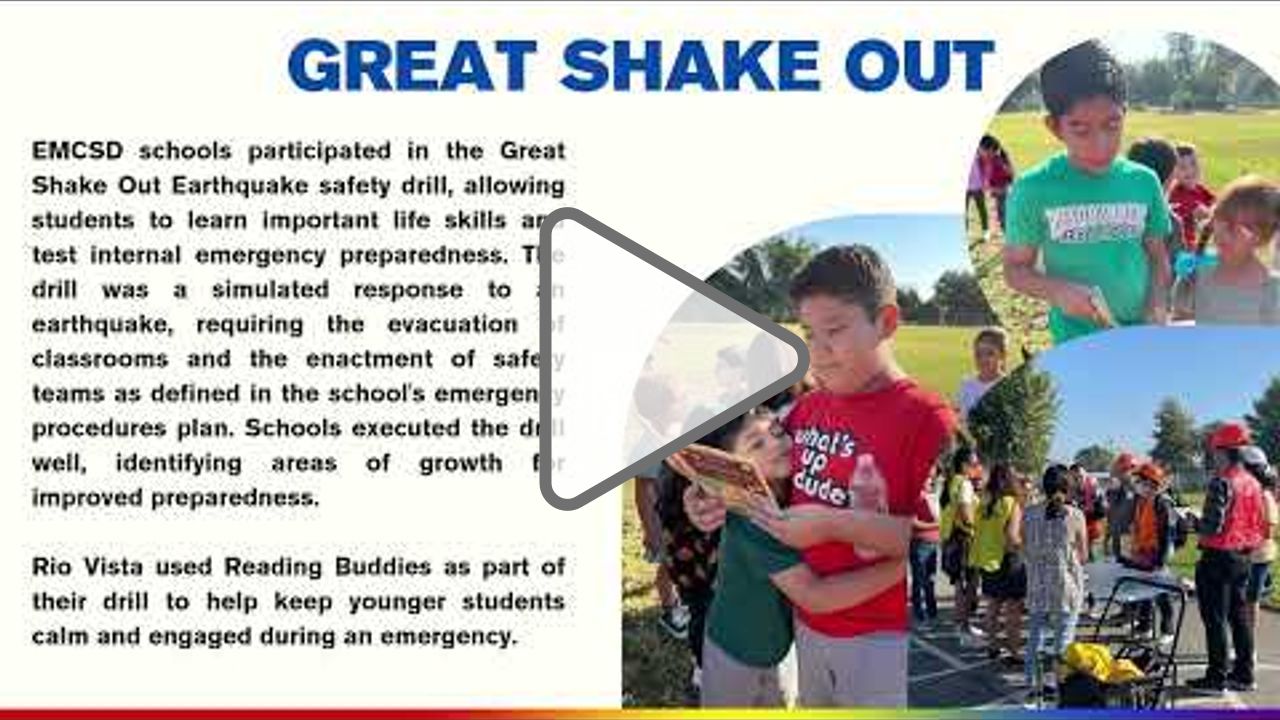 Green Schoolyards Grant

CalFire has awarded three (3) EMCSD schools with a grant worth $5.94 million to create and maintain green schoolyards at Cortada, Gidley, and Shirpser schools.

 

The grant aims to reduce fire risk, install water-efficient irrigation systems, provide outdoor learning opportunities, support the removal of asphalt, combat heat island effects, and improve air and water quality.

 

 

More Extracurriculars for Students

Vibe Tumbling: we are contracting with a consultant to teach tumbling classes to K-4 students at Shirpser as a pilot program.

 

LIFT Enrichment: in order to provide more opportunities for students to participate in the culinary arts, we have contracted with LIFT for 10 sessions to teach scratch cooking, health, and nutrition.

 

Musical Theater: we are working on a partnership with Centre Stage to provide professional learning for our musical theater teachers, a musical theater master class for our students, and support with the creation of a District Review at the end of the musical theater season.

 

 

Community Schools Grant Update

In May 2023, we were allocated a Planning Grant for Community Schools in order to guide us through a process for applying for an Implementation Grant. Advisory Committee was created and began meeting in Fall 2023. Committee includes, district department representatives & staff, parents, community organizations, and union leadership.

 

Meetings are designed to gather and review date to understand what our community needs are compared to our assets with the goal of creating satellite versions of the Jeff Seymour Family Center at each school site.

 

State will release guidelines for Community Schools Implementation Grant as early as January 2024.
🎨 Our Student Art Gallery was a Success!
Elementary students from Potrero, Cortada, Cleminson and Rio Hondo who participated in our Art Time afterschool program had their artwork displayed in our first ever Student Art Gallery. Our artists were able to share their experience with their families, staff, and peers and discussed the different techniques they used to create their pastel portraits.
Shirpser's Tar Pits 🦴
Shirpser's Kindergarteners through 2nd graders went back in time to view some of LA's prehistoric animals! The La Brea Tar Pits Mobile Museum visited Shirpser school to share their knowledge of the types of animals that used to roam around what is now considered Los Angeles and Los Angeles County. From sabretooth cats to dire wolves, students learned their eating habits, teeth sizes, and what we think these animals sounded like. They then got to touch a real fossil of an extinct giant sloth.
Cherrylee's 1️⃣st Harvest in the books 🍂
Students, staff, and families celebrated the Fall season with their inaugural Harvest Festival full of good company, fun games, and electric karaoke!
Potrero's Nature Hike 🥾
Potrero's 4th graders went on a study trip to Chino Hills State Park where they hiked, explored, observed, and learned about local plants, bugs, animals, erosion, and so much more!
They were given bird guides to use along the hike for reference and discussion. They also received notebooks so our explorers could document their sightings and keep track of information they learned along their travels.
Join our team - EMCSD Job Openings
Are you or someone you know looking to pursue a career in education? Do you want to be more involved in your student's district? As we prepare for the start of the 2023-2024 school year, there are many job openings available at EMCSD! We have listed a few below. You can also see more on the graphics above.
AVID Tutors
Child Development Instructor
Custodial Substitute
Engagement and Enrichment Facilitator
Health Service Assistant
Nutrition Service Assistant
Special Education Teacher
and much more!
El Monte City School District

www.emcsd.org